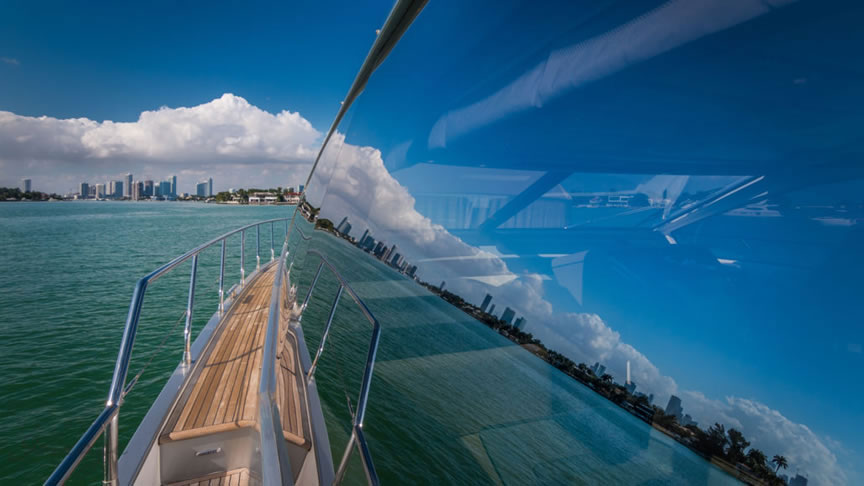 Your luxury yacht rental depends on the type of vacation you are planning. You do not want to rent something too small for a trip which is meant to be luxurious and stretched out as much as your do not want to rent something too big when you want to be able to cruise around from beach to beach. Here are 3 yachts that are perfect for a short day trip, a trip lasting a few days, and a long cruise lasting as long as a week.
28' Sea Ray. A 28' yacht is the perfect little rental for a day of bumming and cruising. It is fast and easy to maneuver, so you can get from beach to beach in no time. It holds up to 10 passengers, but of course you can choose to have an even smaller group aboard. Your rental will include a captain, fuel, water, ice, and sodas. Then all you need to remember is your sunglasses and maybe a beach towel.
62' Azimut + Jetski. This 62' yacht includes 2 bedrooms for you and your guests who are on a short weekend excursion. Its size and amenities make it a comfortable yacht to sail on for a few days. There is a saloon, kitchen, and dining area for you to spend your time enjoying. If you should get tired of being on board for the duration of the trip, you can take the included jetski out for a spin on the water.
116' Azimut + Jetski. If you are taking a long trip to a destination such as the Bahamas, this 116' yacht is just the palace you need. With 5 staterooms, you can accommodate up to 10 overnight guests as well as a 5 person crew. You will not find furnishings as beautiful on any other vessel, and its amenities ensure you cruise in maximum comfort. You can enjoy one of the many decks, the included jetski, or the spa which is located on deck. If you are looking for a more luxurious yacht, chances are you will not find one.