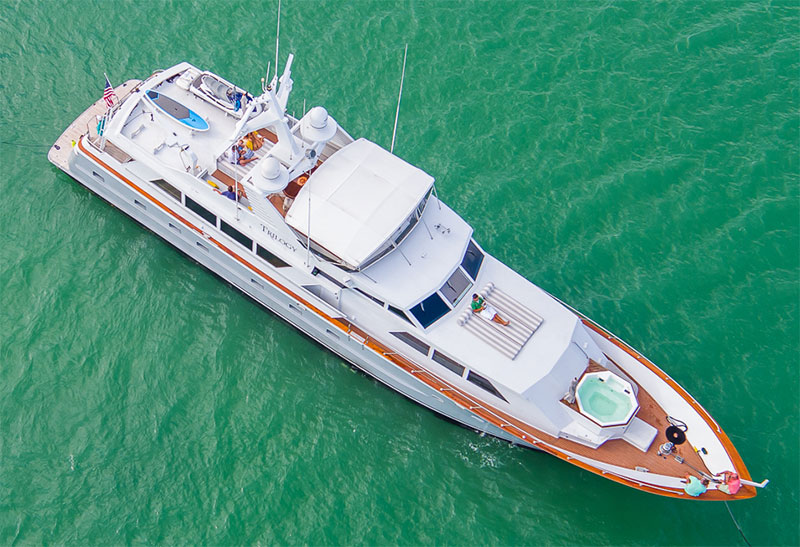 Are you tired of taking the same boring family vacations? We understand. Going to the same types of places – and doing the same types of things – year after year can get repetitive.
But if you're ready to try something different – something special that you and your family will remember forever – you're going to want to consider luxury boating in Miami. A distinct break from the ordinary, yacht charters are upscale, private, and best of all, unforgettable.
High-End Luxury
Accustomed to the superior level of luxury that you'd experience at a 5-star hotel or all-inclusive Caribbean resort? Chartering a private yacht may just be the perfect fit for your family.
These luxury rentals are a whole lot more than your typical sailing or fishing boats – they're upscale watercraft that come equipped with multiple cabins and bathrooms, high-end furnishings and appliances, hot tubs, personal watercraft, and a strict attention to detail and craftsmanship which can rival even the most exclusive land-based retreats.
Experience True Privacy
One of the most common reasons that our repeat clients give for choosing our selection of luxury boats for their family vacations is the discrete level of privacy that they offer – something that can be difficult to find in a typical vacation.
On land, even reserving a private villa means sharing common areas with other vacationers. While your accommodations may be secluded, you really don't have that much privacy. But when you're out on your own luxury yacht, it's just you, your family, your crew, and an endless horizon of peaceful blue water.
What that doesn't mean, however, is that you have to spend your entire trip alone. One of the beautiful things of having your own private boat is that you're free to use your time exactly how you want. Want to go ashore for an afternoon of sightseeing or shopping? That's no problem. Rather watch the sun traverse the sky from the comfort and privacy of a lounge chair on the yacht's deck? That works, too; you have the freedom to choose.
Make Unforgettable Memories
If there is one thing that they're not, luxury boat rentals in Miami are far from ordinary. As an upscale traveler, you've probably spent your fair share of days relaxing on the beach underneath the cool shade of a palm tree. But after so many vacations, those tropical destinations all have a tendency to run together.
By renting a luxury boat, you're giving your family the opportunity to see South Florida in another perspective – from the water.
Whether you're looking for a quaint boat charter that you and your family can operate yourself, or are set on a larger full-service alternative with a staffed crew, luxury boat rentals in Miami offer the flexibility to provide you with the perfect vacation no matter what type of adventure you have in mind.
There is, however, one thing you should know before booking a luxury boat rental for your next family vacation: once it's all done and the memories have been made, you'll never be able to look at standard, cookie-cutter land-based vacations the same again.