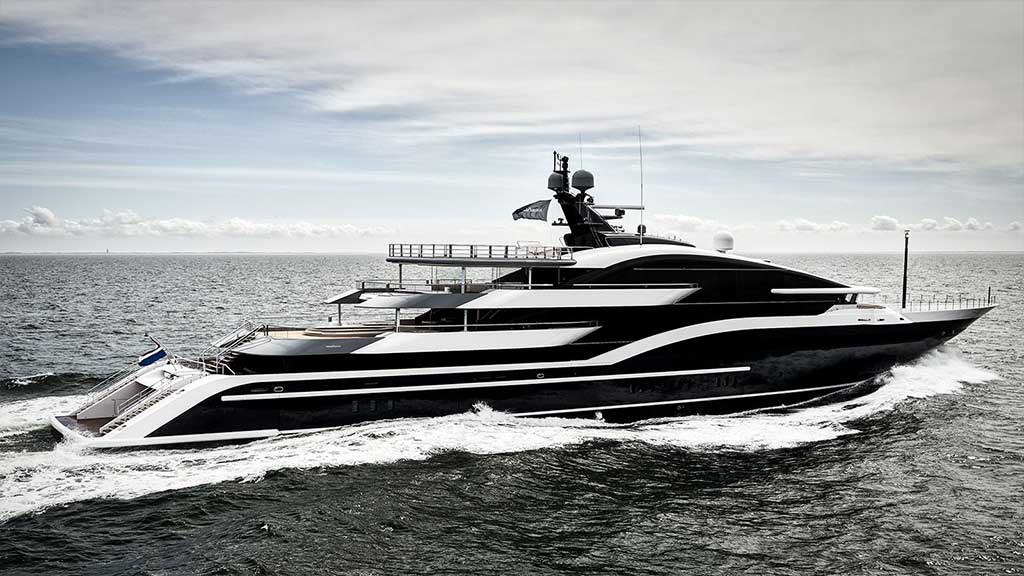 The 90-meter Oceanco superyacht Project Shark has completed its sea trials.
The vessel which is comprised of a steel hull and aluminum superstructure has an interior which was designed by Nuvolari Lenard and an exterior by Luiz de Basto. The super yacht is one of the top 200 largest yachts in the world. Project Shark is set to be delivered in time for the summer yachting season.
On board Project Shark there is enough room for 12 guests split amongst 6 cabins. These cabins include an upper deck along with an owner's suite which boasts a private deck with its own personal spa pool. The main deck saloon promises stunning views as it is outfitted with 2.3 meter tall windows. The swimming pool which is situated on the bridge deck is surrounded by sun pads and features cascading waterfalls which originate from the upper deck. The upper deck is designed to be a private helipad, and should be used as such. Other features of this massive superyacht include a dive center, hammam, sauna, and an area specifically meant for storing a submarine. Project Shark is equipped with two elevators, one for guests and one to discretely transport the 31-person crew. The most unique features of the superyacht are the helipad, its unique hammerhead front design and fin design in the back, along with the private aft deck with the main deck being the only walkaround.
This yacht's power comes from two 4,828hp M73L engines and, though top speed data has not yet been disclosed, is reported to be able to exceed 20 knots.
Oceanco has multiple other projects currently in development including Project Bravo, formally referred to as the 109 meter Project Y718. Project Bravo is designed by Nuvolari Lenard and is set to be delivered this year.