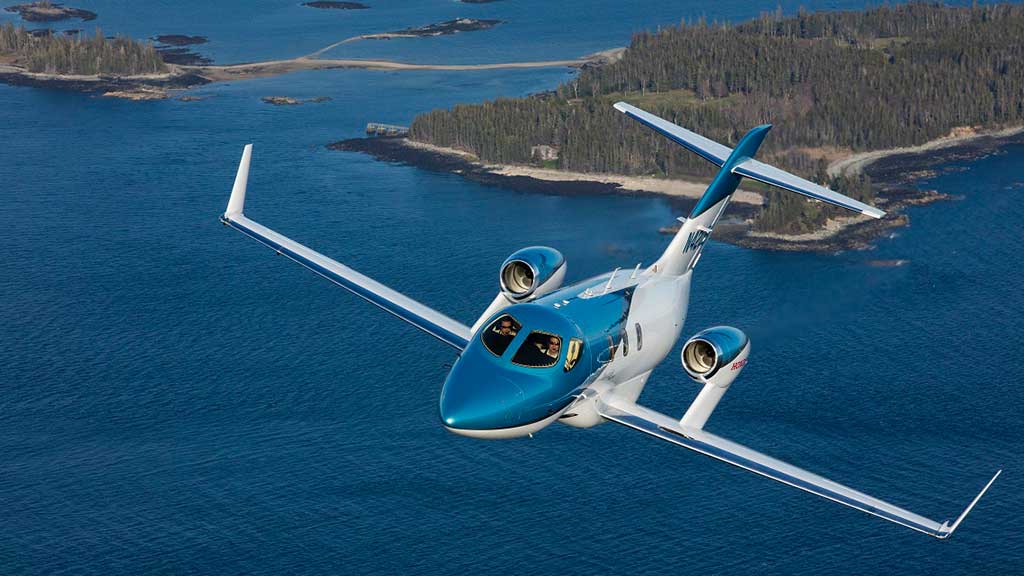 When you hear that a jet's design is based on a stiletto, you would think that the overall profile would be the most striking aspect of the aircraft. But then you realize that this particular jet's engines are prominently mounted above the wings instead of hidden below the tail as if the plane should be ashamed of them. Honda's jet design has been 32 years in the making but has recently come to culmination.
The engineer who was put in charge of the project in 1986, Michimasa Fujino, was less than thrilled with taking on the endeavor because he thought it was a dead end. At the time he was right. But after years of mulling over the design, he came to the idea of mounting the engines on pylons above the wings. Not only would this decision add to aesthetic aspect of the jet, it would also cause less drag, make for a quieter cabin, and allow more room for luggage.
The resulting jet is the HA-420 HondaJet. This lightweight aircraft can house up to 7 passengers including a pilot or two. The gorgeous shape of the jet is designed after Salvatore Ferragamo high-heeled shoe—a design which could change the face of modern private aviation.
The HA-420 contains astounding technology with the ability to change the flight of the plane in the case that the pilot passes out at high altitudes. The inner lights are configured and color coded in a way to draw more attention to abnormal situations with the cockpit's large computer screens operating in the same fashion.
HondaJets were delivered to their first customers at the end of 2015 with over 50 more being delivered since. Any owner of these revolutionary planes can enjoy flying in a jet which handles like a sports car and looks just as great.