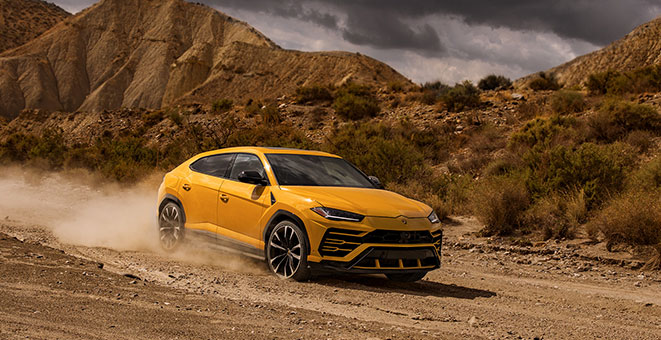 Picking up the kids from school is about to take a new luxury turn. Lamborghini recently unveiled its long awaited 2019 Urus—a practical 4-seater SUV which at a glance could be mistaken for a KIA Sportage. But after that glance, you are in for a sensory treat.  With a base price of $200,000, the Urus is one SUV that is leading the way in ultra-luxury sports utilitarian vehicles. If Bentley is any indication of the market for ultra-luxury SUVs with their Bentayga, the Urus should sell fast and well.
The Lamborghini Urus features rear wheel steering like the Porsche Cayenne and is the first Lamborghini to feature a turbocharged engine. This change in engine is not only to improve the fuel economy of the Urus, but it is also on par with the characteristics of most other SUVs. Though it may have fewer cylinders than other Lamborghini models, the Urus is not lacking in power. The Urus has 10 more horsepower than the Huracan Performante. This change in engine will in no way affect the speed of this family car. Flat out, the Urus will have the capability to reach 187mph with its 650-hp engine.
Lamborghini is planning on manufacturing 3500 of the Urus per year. This is a small number compared how many other luxury SUVs are manufactured every year, but last year Lamborghini only sold 3500 cars total—which was a record for the company. This also means that to manufacture this volume of vehicles, Lamborghini will have to exponentially expand its Sant'Agata Bolognese factory. The high production of this vehicle and expansion of their factory should give you an inkling as to how popular the Urus is expected to be.
The production-spec for the Urus was released on December 4 of this year, five years after the initial concept was born. The Urus is set to be available in late 2018.