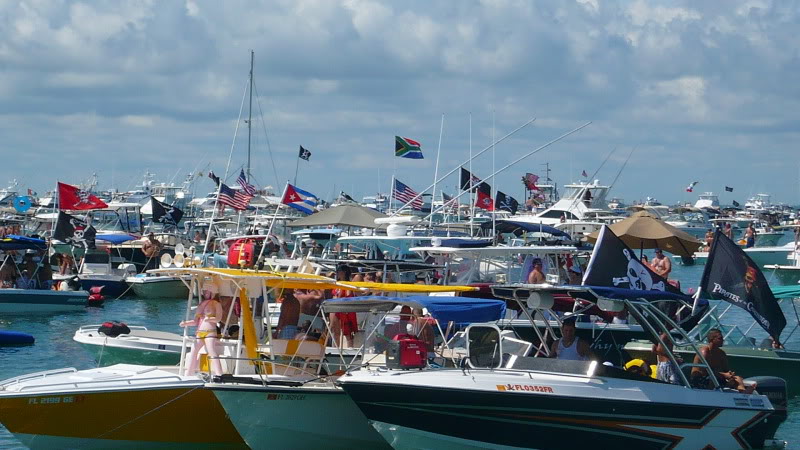 The 2016 Annual Columbus Day Regatta is the premiere sailboat racing event in Southeast Florida! Held every year since 1956, the regatta celebrates Christopher Columbus and the voyages of discovery that led to the discovery of America.
For Miami locals, this is not just a race, is the Mardi Gras of the sea, the perfect excuse to rent a boat and enjoy the sea in whole other way. If you do want to participate in the actual race and official events here is a short guide. If you are looking for party, scroll down after the "bonus fact".
If you plan to participate, here are a few things you should know:
Date: Oct 8 – 10
Entries are due by midnight on October 3, 2016 – ABSOLUTELY NO EXCEPTIONS.
You need to fill out the form found here: www.columbusdayregatta.net
There are several classes: PHRF class, One Design, Assigned Rating, Multihull, Gunkhole, Salm Freedom and Beach Cats.
If your boat is not rated, you need to send a picture and a copy of the manufacturer specifications with your entry directly to the Coral Reef Yacht Club. The committee will determine your class.
Once entered, you can pick up your race packer, which includes your final sailing instructions, class flag, Columbus Day flag, course information, starting times, boat number and scratch sheet starting October 6, 2016.
The Saturday Day 1 course is Quickflash to Black Ledge and on Sunday Day 2, the course is the reverse. The route is marked with orange flags.
Arrange for your docking before the day of the event, the sooner the better. This is a popular event.
BONUS FACT: This is the oldest event held in Biscayne Bay and has been recognized by descendents of Columbus himself. In 1960, the Columbus Day Cruising Regatta Club brought in the 17 th Duke of Veraguas, Cristobal Colon and his Duchess to witness the annual event. The Duke, a direct descendent of Christopher Columbus, gave the committee permission to use the original Columbus coat of arms as a club emblem.
Columbus Day Weekend at Elliot Key
If peace and quite is what you seek, this is not the place to be. Adult beverages will be consumed in vast quantities.
Location: Elliot Key
Date: Oct 8 – 10
Don't have a boat? We can help you. 
Park Services issued a couple of statements and guides to guide participants of this event.
"To help ensure your safety and the protection of fragile park resources, all boats must anchor within the marked anchorage area off the northern end of Elliott Key (see handout), with a maximum of 5 boats rafted together, and a minimum distance of 100 feet between rafts of vessels, or between individual, non-rafted vessels. Additionally, the anchoring of vessels immediately outside the "Mandatory Anchorage Area" is prohibited. These special regulations are in effect from 12:01 am on Friday, October 9 through 11:59 pm on Monday, October 12, 2015 These regulations are in place to allow emergency vessels to navigate to and through the area as quickly as possible."
Important Existing regulations:
Unmanned Aircraft: The use of unmanned aircraft is prohibited in Biscayne National Park except in very specific circumstances. For more information on the park's unmanned aircraft policy please click here.
Unauthorized Business Operations: Charters and the sales of food, drink, beads, etc. are prohibited.
Commercial Advertising: Displaying advertising banners on vessels or aircraft is prohibited.
Noise: Vessels with external speakers broadcasting excessively loud music will be cited and the speaker wire will be confiscated.
"Stay Parked After Dark": While no official curfew will be in place for the weekend, remember that all the fatalities and the majority of the boating accidents that have occurred over recent Columbus Day Weekends have occurred after sunset. Stay on your boat and remain in the anchorage after sunset.
Additional Aids to Navigation: In an effort to protect fragile shoals, improve boater safety, and help direct boaters around the extremely shallow areas and through the Featherbed Banks, Biscayne National Park is installing fourteen fixed shoal markers around the Featherbeds. The park hopes that these new markers, in addition to existing markers and navigational aids, will result in fewer vessel groundings in the area.
Coast Guard Suggestions:
Don't drink and boat. Be responsible with drinks aboard. Designate a "sober skipper" before departing the dock.
Remain anchored and on your vessel, particularly after dark. While no official curfew will be in place for the weekend, it is in your best interest to "stay parked after dark."
Check your safety gear to ensure it works. File a float plan with a friend or at a marina. A float plan form can be found at www.floatplancentral.org. Remember to wear your lifejackets and make sure you have flares and a working VHF-FM marine radio onboard. Another potentially life-saving device to invest in is an Emergency Position-Indicating Radio Beacon (EPIRB).
Groundings are costly to your boat, your engine, and the environment. To avoid groundings make sure to have navigational charts or an electronic navigation system onboard and learn to properly use them before you head out on the water.
Please remain at anchor from sunrise to sunset.
Help protect marine life, the environment and your boat engine. Dispose of trash and plastic bags properly.
Prime Luxury Rentals Featured Boats for Columbus Day Weekend: