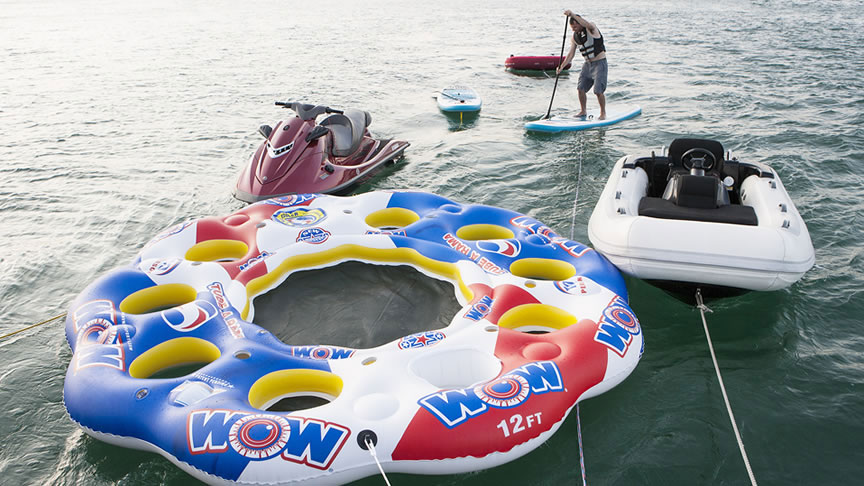 A memorable spring break experience does not have to be reserved only for college students. This year, take a new and improved spring break. Instead of partying on the beach 23 hours a day for a whole week, you can rent a luxury yacht or party boat and cruise Biscayne Bay with your closest friends. Unlike college students who would most likely forget everything they did on spring break, you can make memories which will last a lifetime.
Choose your luxury rental and set sail on Biscayne Bay. You can choose any size rental to accommodate your group. Whether you are looking to have a private getaway with your loved one or planning a week long action packed vacation with a group of friends, there is a luxury yacht out there to fit your needs. And Biscayne Bay is the perfect place to occupy yourselves.
Looking for adventure? You can choose to dock your boat and experience flyboarding on the Miami coast to find out what it feels like to walk on water. But if you want to choose to stay closer to earth but still keep your adrenaline pumping, you can choose to go jet skiing—included with larger luxury yacht rentals—or jet boating. This level of excitement and adventure is sure to be the makings of memories which will last you and your friends of lifetime, and you may just decide to make the same great memories every year.
Those who want a more relaxed vacation experience can choose to cruise the coastline in your yacht, or you can choose to go shopping at the Bayside Marketplace and return to your yacht or party boat to watch the sun set.  When the sun goes down and you are ready to relax a little, you will find plenty to choose from at Biscayne Bay. A quiet dinner awaits you at one of Biscayne Bay's many restaurants where you can enjoy the laid back atmosphere and excellent cuisine. There are also plenty of bars and clubs to keep you out all night.
Of course you can always choose to stay on your boat throughout your entire vacation, which is a great option as well. Party boats and large yachts offer multiple decks and enough accommodations to make you wonder why anyone would ever want to step back onto land again.