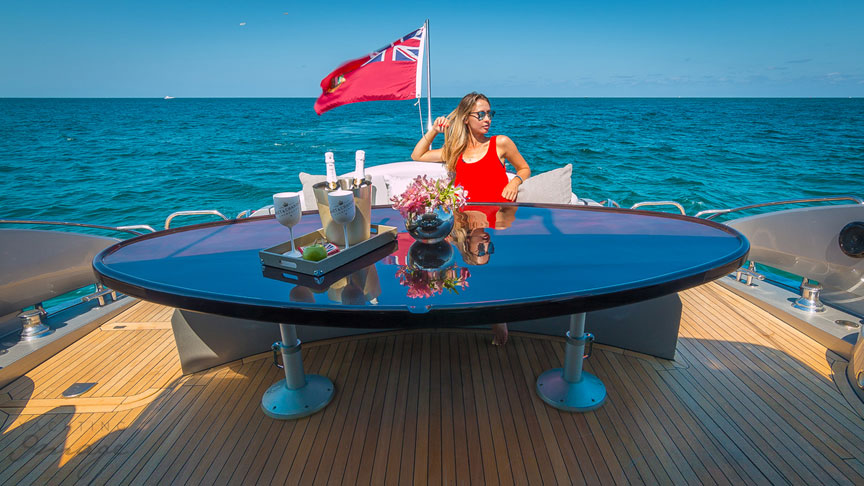 Nothing beats a vacation on the water. Cruises dominate most of that category, but there really are other options when it comes to relaxing or partying in nautical stetting. You can charter your own private yacht or party boat for as long as you would like it and avoid the tight schedules and restrictions of a cruise ship. While a long, chartered cruise to the Bahamas with a group of close friends may sound like heaven to some people, others may think just a day cruising the shores of Miami with their closest friend or loved one is a more appealing idea. It doesn't matter if you're the former or the latter because there is a luxury boat rental available to fit any specific cruising needs.
If you're looking for a special or romantic mini getaway with a loved one, you can choose to rent a small luxury yacht which is just the right size for the two of you. You can sunbathe on the deck or simply decide to go wherever the ocean takes you. And for an extra special experience, you can choose to rent a slightly bigger yacht with sleeping quarters and spend the night watching the sun set and rise over the sea. A small luxury yacht is perfect for a day trip with a group of friends. All small yachts come with a galley and lounge area below deck and a bar. But if you and your friends feel like going in the water, you have the option to go snorkeling off of the extended swim platform.
For longer journeys with friends, you can choose to rent one of the larger luxury yachts. These large yachts come with a wide variety of amenities to please anyone in your group. You can choose to go jet skiing or ski boating by day, and by night you can party on the deck or in one of the many lounge areas throughout the yacht. Large yachts are a great choice for extended trips and large groups as they offer many sleeping areas. Whether you decide to cruise to the Bahamas or down the coast of Florida, the luxury yacht rental of your choice will not disappoint you in excitement or comfort.