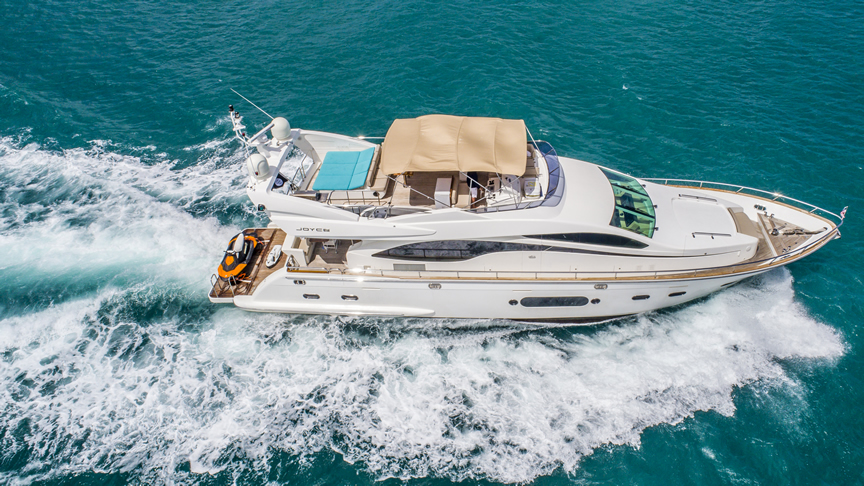 You're probably planning your summer vacation or your next weekend getaway, working hard on the research to make sure you create those special memories. A sailing trip to the Caribbean could be the perfect escape to enjoy a wonderful experience while practicing safe social distancing.
At Prime Experiences, we take pride in offering a relaxing and unforgettable cruising experience for you and your guests to enjoy. If you are thinking of scheduling a relaxing day on a yacht or you are keener to experience some adrenaline rush with some friends, then the Joyce 84" is the boat for you. This yacht offers a great mix of luxury cruising, pretty looks and performance. Besides comfort and beauty, another wonderful commodity is the huge expanse on the deck allowing complete freedom to sunbathe with no disturbance.
We have been busy coming up with a unique and private experience, for you and your guests to embark on this journey and enjoy a three-day getaway to the Bimini islands on board the 84" Joyce. This boat is ideal for large groups and includes 4 bedrooms which can accommodate 8 guests.
Located about 50 miles from Miami, the Bimini islands is one of the hottest yacht destinations in South Florida. With its majestic white sand beaches and crystal-clear ocean, this island is a paradise infused with adventure and also serves as the perfect getaway to the Caribbean. If you are looking to dip in the water, we can also arrange a private guide for a dolphin or dive trip on the yacht's tender. If you enjoy the sun and being out on the water, we have curated an excellent option for you and your friends to wakeboard, kneeboard or cruise around jet skis.
On this remarkable yacht, you'll also have access to a super modern interior that includes a spacious salon area with flat screen TV, a dining area, and a fully equipped galley kitchen and bar. This yacht is the epitome of elegance and sophistication.
Alongside you'll also receive watertoys that includes options for one jet ski, a sea bob, an inflatable island, snorkel gear to explore the ocean in full, kayaks for the kids, stand up paddle boards and a pull tube.
Besides drinking and eating or simply just loosen up on the yacht, there are plenty of other activities that you can indulge if you chose to anchor for the day. Get plenty of time out on the water and explore ashore from the marina. All you need to do is relax and enjoy the changing scenery.
This yacht is available for a day-charter through the stunning coastline of Miami or to journey further to the Bahamas. If you decide to book yourself this boat, it will be an experience of a lifetime that you and your loved ones will always remember. Now all that you have to do is pack your bags and sail away. Go ahead and book yourself the Joyce 84'' to practice the safest social distancing!
To start planning your perfect getaway please contact our team of experts at info@primeluxuryrentals.com