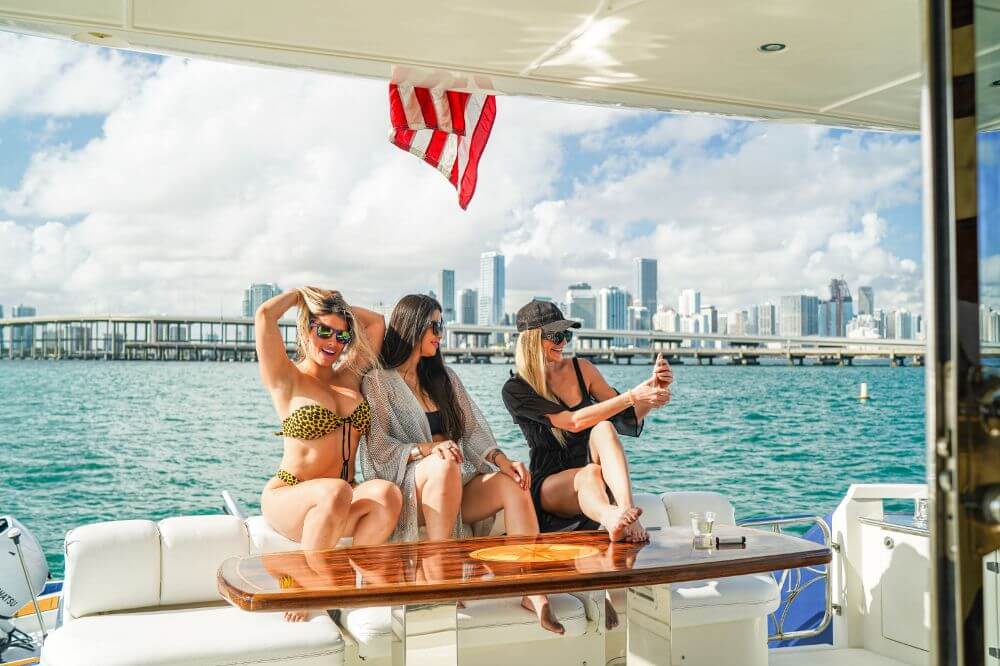 Yachting to Miami's Music Festivals: How to Arrive in Style.
Miami is known for its vibrant music scene and world-class festivals, including the Winter Music Festival and Ultra Music Festival. While attending these events is an exhilarating experience on its own, arriving in style aboard a yacht charter adds an extra layer of luxury and exclusivity. In this blog, we'll explore how to make a grand entrance at Miami's music festivals and provide details on docking locations, transportation options, and yacht amenities. Yachting to Miami's Music Festivals: How to Arrive in Style.
The Ultimate Statement – Arriving at Music Festivals Aboard a Yacht
Making a grand entrance at Miami's music festivals aboard a luxury yacht is the ultimate statement. With the stunning Miami skyline and ocean as your backdrop, you'll turn heads and create unforgettable memories before you even set foot on festival grounds.
Yacht charters provide the perfect blend of comfort, luxury, and privacy. As you sail towards the festival, enjoy the breathtaking views from spacious decks, relax in elegantly designed lounges, and savor gourmet meals prepared by an onboard chef. A yacht charter allows you to fully immerse yourself in the festival experience while enjoying the exclusivity and tranquility of a private retreat.
Docking Locations and Transportation Options
When attending Miami's music festivals via yacht, it's essential to plan your docking locations and transportation options in advance. Fortunately, Miami offers several marinas and docks conveniently located near festival venues.
Some popular docking locations for music festival attendees include the Miami Beach Marina, Sea Isle Marina, and Island Gardens Deep Harbour. These marinas provide easy access to festival sites and nearby attractions, ensuring you make the most of your Miami experience.
Once you've secured a docking spot, you'll need to consider transportation options to and from the festival grounds. Water taxis are an excellent choice, allowing you to avoid traffic while enjoying stunning views of Miami's waterways. Alternatively, you can arrange for private transportation services or use ride-sharing apps for a seamless travel experience.
World-Class Yacht Amenities for an Unforgettable Festival Experience
A luxury yacht charter is more than just a mode of transportation; it's an opportunity to enjoy world-class amenities that will enhance your music festival experience. On board a yacht, you'll find elegantly designed staterooms with plush bedding, ensuring you have a comfortable space to rest after a day of dancing and celebrating.
In addition to luxurious accommodations, yacht charters offer a range of amenities designed to cater to your every need. Enjoy personalized service from an attentive crew, who will ensure your experience is seamless and unforgettable. Savor gourmet meals prepared by an onboard chef, using only the finest ingredients to create culinary masterpieces.
For those looking to relax and rejuvenate, many yachts feature onboard spas and wellness facilities, allowing you to indulge in massages, facials, and other treatments. And if you're in the mood for some fun, water toys such as jet skis, paddleboards, and snorkeling gear are often available for your enjoyment.
Conclusion
Attending Miami's music festivals aboard a yacht charter is a truly unique and luxurious experience. From making a grand entrance to enjoying world-class amenities, yachting to music festivals allows you to create unforgettable memories while enjoying the very best that Miami has to offer. With careful planning and attention to detail, you'll arrive at Miami's music festivals in style, ready for the experience of a lifetime.
Contact Prime Luxury Rentals for yacht options and pricing: 305.892.3573 or email at info@primeluxuryrentals.com – Yachting to Miami's Music Festivals