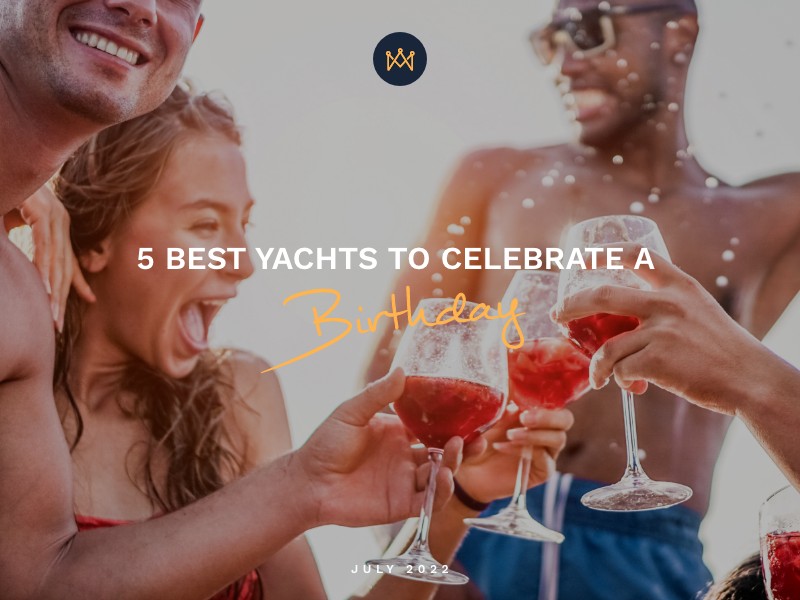 If you want your birthday to be a thrilling and memorable experience, a yacht party is a way to go. And If you're planning a birthday for a friend or family member, a yacht is sure to impress. Even if you don't own a yacht, you can still enjoy a fabulous birthday celebration on a yacht through yacht rentals from Prime Experiences. With Prime Experiences, you'll have a captain so you won't have to worry about sailing yourself, and jet skis are optional if you and your party have a love of water sports.
But with so many options available, you may find yourself wondering what yacht to choose. In today's blog, let's break down 5 of the best yacht rentals for a birthday celebration.
51' Galeon Fly
The Galeon Fly is a perfect yacht for entertaining. At 51', this yacht is on the smaller side, but its Beach Mode features make up for it. Fold outside decks allow you to expand the usable space on the yacht to get the most out of your party. There's a flybridge that includes a wet bar and sundecks. That's why this yacht is able to fit 12, while other yachts of a similar size might have a capacity of 10.
54' Sea Ray
Sea Ray is a well-established yacht manufacturer and it's not hard to see why when you take a look at this 54' yacht. It comfortably fits 10, so it's perfect for the close friends and family you want to bring along to celebrate the day. There are two bathrooms, so no more awkward waiting in line. There are indoor and outdoor lounge options. When you're done trailing along by jetski, you can laugh and enjoy each other's company in the comfortable bow lounge. Or, if you need some time in the shade, the V-berth seating area is a picture of luxury. Enjoy the optional grill that comes along with the wetbar of this vessel.
55' Azimut Huck Faters
If you want to celebrate your birthday in style, the Azimut Huck Faters is a terrific option. There's comfortable lounge seating all around the yacht, ambient lighting, and dining options that let you gaze out at the sparkling waters of Miami as you celebrate your birthday with up to 12 of your best friends. You have options for sun or shade, a swim platform so you can enjoy the water, and the Bose Stereo system can help you set the right vibes for the night.
62' Azimut Sport
With a capacity of 8, the Azimut Sport is for smaller parties, but it's also for thrill seekers. This sporty yacht cuts through the water quickly, which makes it perfect for jet skis, diving, or other exciting water adventures. There are three bathrooms and four staterooms, ensuring optimum comfort and convenience. The Sport uses high-tech advances to ensure that it's a smooth ride, offering surprising stability for a sports yacht, while your certified captain and VIP host make sure you still have an unforgettable time.
62' Rodriguez Cat
The Rodriguez Cat is perfect for a larger party or if you want more elbow room. This double decker fits 13 and has opportunities for fun in the sun or in the shade. Every inch of this catamaran is designed for comfort and luxury experiences, with sofa seating throughout the interior salon that will make you feel utterly spoiled. The upper deck has a grill, sun pads, and dining. The lower deck is more spacious, offering a chance to really kick back as the birthday goes on. With four different staterooms, you can even make the party an overnight affair.
Book a Birthday Package
If you want to make your birthday (or your loved one's birthday) truly a day to remember, consider booking a birthday package. Prime Experiences offers three. The Birthday Starter Pack has all the basics you need for a great birthday: champagne flutes, a birthday cake and candles, dinner setup, and balloons. The Lux Birthday Pack kicks it up a notch with sweets and patron tequila. If you go with the top notch VIP Birthday Pack, you'll have more food options and the best birthday treatment that Prime Experiences has to offer.
Ultimately, your birthday is an experience you want to treasure with your favorite people. Prime Experiences is committed to creating truly epic experiences onboard the finest yachts in Miami, Florida. We love to host celebrations of all kinds, including birthdays. Want to enjoy your next birthday party on one of our yachts? Contact us today to book a yacht charter and a birthday package.