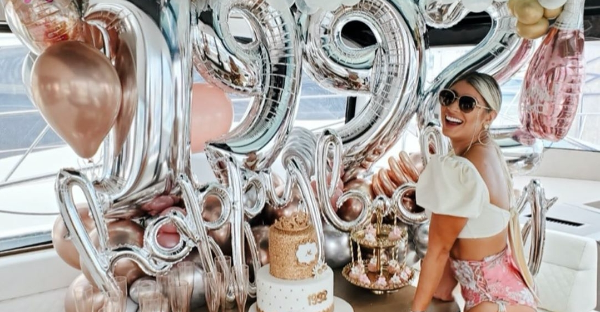 There is something unmissable that happens yearly in our lives, having a birthday! A time to celebrate our very own lives and our uniqueness. Many people use this occasion to reflect on the year that has passed, set new goals, and think about the year to come, but let's not deny we all want a memorable day filled with joy, happiness, cake, and maybe a gift or two! Indeed, finding new ways to celebrate our special day after our mid-20s is a challenge we face year after year.
Here are a few ideas that come to mind: a fancy dinner out with family and friends, fun social gatherings for your friends in a cool setting with party favors included, a boozy brunch, or a fabulous trip abroad? It's okay if any of these ideas cause some triggers since you've been there and done that. You can still do something unique in Miami, though, host a lavish birthday celebration on a yacht! Renting a yacht is sure to brighten up your day and mood.
Imagine yourself and twelve of your closest friends gliding through Miami's crystal clear waters without a care in the world, all while soaking up all the vitamin sea you deserve. Prime Experiences understands how stressful and time-consuming planning an event can be. You won't have to worry – we have a variety of birthday packages (Starter, Lux, and VIP Pack) with all party favors included. All our B-Packs include balloons, a cake and candles, birthday hats, and bling dinnerware. Thanks to our expertise, Prime Experiences can make your special day unforgettable. With a yacht charter from us, the world will be at your feet.
An Epic day calls for some of our favorite yachts, a 51′ Gealeon Fly, a 55′ Azimut Alegria, the stunning 88′ Princess, or the impressive 110′ Horizon. Our top picks are some of the luxurious gems we have in store just for you to enjoy while hopping between the hottest sandbars and hip locations in Miami. They have the perfect size and space to bust some dance moves, sip champagne and cocktails, get that sunshine vitamin fix, try some water sports, and snap some cool pics and videos worth sharing on social media.
Let's take a look at what makes a birthday on the water with the Prime stamp epic: venue – hello yachting fleet at your fingertips! – decoration, catering service, a mixologist for that refreshing G&T, a spicy marg, or your drink of choice, DJ, water toys, experienced crew, and personalized service. Check, Check, Check! What's even better, you won't need to do a thing; Prime Experience will handle every detail to fit your needs and wants. We guarantee that your party will be the talk of your friends, and the memories will last until you make another orbit around the sun. What are you waiting for to experience your many happy returns at sea with the number one yacht charters in South Florida?