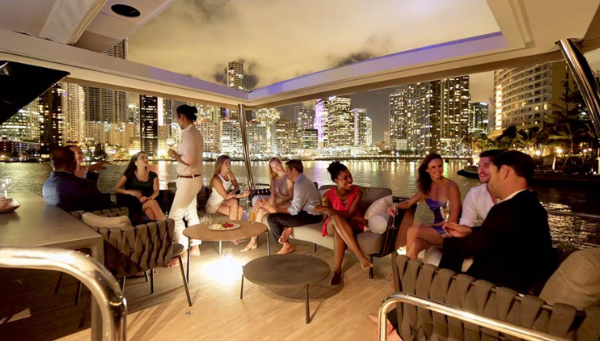 In all honesty, we all know that an uninspiring workplace is the last thing you need for your company. You will be more successful in keeping your employees committed to the company mission and goals if you focus more on rewarding their hard work. I believe you understand our point! Then why not shake things up by putting the fun back on the agenda at your next corporate event.
A wide range of venues are available for you to host your event, but what makes Miami famous…? world-renowned white sandy beaches, the impressive blue Atlantic Ocean, and a skyline to remember. Therefore, it should be a no-brainer to take your event out on the water and experience Miami the only way it should be – on a megayacht!
Your organization can showcase its unique qualities through corporate events. Frankly, planning an event is a lot of work, and in Miami, it comes in all sizes. Delegation is key; otherwise, you'll wind up in some troubled waters, but don't despair because Prime Experiences has you covered!
All of our vessels are suitable and meet your requirements whether you are launching a new product, holding a management meeting, enhancing teamwork, motivating employees, impressing prospective clients, or thanking loyal ones. No matter what choice you make, Prime Experiences is always the best and most fitting choice.
Let us tell you three of our favorite Megayachts available for that wow-lasting impression you wish to leave on all your guests.
❖ Seafair Miami (Capacity 30 – 650 pax)
The $ 40M, first-of-its-kind event vessel by internationally acclaimed designer Luiz de Basto has a length of 228 feet and a height of 47 feet above the water; people say size doesn't matter, only wait until you meet her. She is a striking sight in the harbor. Several impressive spaces are available on all four decks of the Seafair: ballrooms, lounges, dining rooms, and our personal favorite, an open-air Sky Deck that offers stunning views of Biscayne Bay and the Miami skyline.
❖ The Biscayne Lady (Capacity 30 – 400 pax)
111 feet in length of well-thought-out design and high-style features for an unforgettable affair. Main features include the interior lighting, which can be dimmed for that chic evening cocktail party atmosphere, and a stereo system that plays different music settings on every three levels. But everyone's favorites, bars in strategic locations, and an open-air deck offering nearly 360-degree panoramic views of South Florida.
❖ Venetian Lady (Capacity 30 -140 pax)
Style, class, and comfort are the hallmarks of this 130-foot vessel. This yacht is undoubtedly one of Miami's most beautiful and sleek yachts. Venetian Lady features three decks, two bars, two dance floors, and cutting-edge audio and visual technology. Even though it has a smaller capacity than our previous options, this unique yacht will surely turn your event into the most fashionable one.
Did anything anchor your attention? and yes, all pun intended! Just think outside the box and out in the water for your next affair. Become the talk of the town and the corporate world.